Teaching skills, cultural competence and community health-based healthcare
Message from the Designated Institutional Official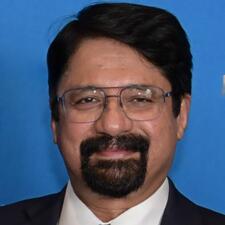 On behalf of the Office of Graduate Medical Education, our program directors, residents, faculty, and teaching staff, I welcome you to our graduate medical education programs at the University of California Riverside School of Medicine (UCR SOM). 
Our mission as an ACGME-accredited GME sponsoring institution is to partner with hospitals offering residents a wealth of clinical resources. As the sponsoring institution, UCR SOM will ensure that the programs meet or exceed all Accreditation Council for Graduate Medical Education (ACGME) and Residency Review Committee (RRC) general and specific requirements. We are the sponsoring institution for three ACGME-accredited residency programs (family medicine, internal medicine, psychiatry) and five ACGME-accredited fellowships (cardiovascular disease, gastroenterology, interventional cardiology, critical care medicine, and child and adolescent psychiatry). The sixth fellowship, minimally invasive gynecologic surgery, is accredited by the American Association of Gynecologic Laparoscopists (AAGL).
We are deeply committed to sponsoring residency and fellowship programs that reflect our high professional standards and establish learning and working environments based on a culture of respect for residents', fellows', and physicians' well-being. All programs will promote improved quality of care to the patient population, high-quality provider/patient communication skills, and will emphasize personal and professional development along with ethical and humanistic behavior for the trainees in the programs. We are committed to high-quality patient-centered care, community service, medical education, and the pursuit of scholarly activities. We are a community-based medical school and offer a personalized, collaborative, cordial work environment, cohesive programs, and program directors, with an accessible and friendly GME office staff who are here to support you and your growth.
The University of California Riverside SOM is located in the largest city in Riverside County. The five largest ethnic groups in Riverside County, CA, are White (35.9%), Hispanic (24.9%), Other (Hispanic) (20.6%), Asian (6.2%), and Black or African American (6.06%). UC Riverside is rated No. 11 on the U.S. News & World Report's list of Most Diverse Medical Schools. Our campus is sixty miles east of Los Angeles, with a diverse population of 2.458 million. This allows our residents to train and provide mental health care services to children & adolescents, young adults, women's health, veterans, and geriatric patients. Riverside is home to the world-famous Mission Inn Hotel and Spa and has the largest Mission Revival-style building in the United States. The Inn's guest list has included Presidents, film stars, and royalty. Things to do in Riverside include Riverside Food Lab, a hall to various foods and entertainment, catching shows at the Fox Performing Arts Center, hiking Mount Rubidoux Park, and visiting Downtown Riverside's two-story library. The Mission Inn Hotel & Spa's Festival of Lights is one of the nation's largest holiday light collections, voted "Best Public Lights Display" by USA Today. There are more than 100 beaches along the Southern California coast; there are more than fifteen beaches in Los Angeles County alone.
We invite you to read about our extensive integrated training opportunities that will guide you through your personal and professional growth. We are committed to educating and developing outstanding physicians who acquire the necessary skills for their chosen careers. Just as important, we train physicians who embrace compassion and humanism to treat the disease and care for the person with the illness and their family. We constantly work to promote our physicians' health and well-being and foster inter-professional training and education.
Thank you for your interest in our GME programs. We invite your inquiries about our programs and look forward to the possibility of working with you as you embark on this important stage of your medical career.
Looking forward to welcoming you!
 
Robby Gulati, MD, FACP
Associate Dean of Graduate Medical Education
Designated Institutional Official
UC Riverside School of Medicine